The first step in the dumpster rental process is determining which size dumpster is best suited to your project. We offer 10 yards dumpster. We've found that these three sizes suit the needs of the vast majority of DIYers and contractors. Below you'll find information about each specific size, along with their common uses.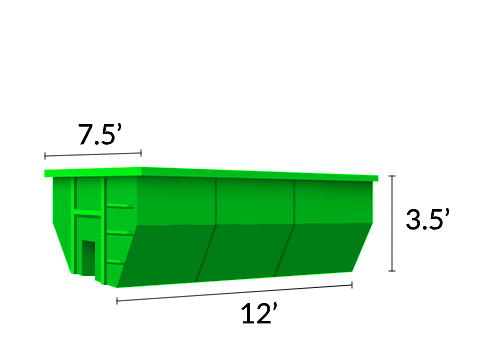 Dimensions:

-12' long
-7.5' wide
-3.5' tall

A 10-yard dumpster can hold up to 4 pick-up truckloads of material. Most 10-yard dumpster rentals typically include a 4-ton weight limit (8,000 pounds). However, this can vary by location and debris type - give us a call to learn more about dumpster weight limits in your area.

A 10-yard dumpster is a popular choice for small to medium size cleanups. It is a useful choice for a wide range of projects, such as remodeling, basement cleanouts, spring cleaning, roofing, and more.
Renting a dumpster is an easy process. Follow the 4 steps below, and get rid of that junk!
Choose a dumpster size that fits your project needs.
SCHEDULE DUMSPTER DELIVERY
Pick a delivery time that fits your schedule.
FILL YOUR DUMPSTER
Our normal rental rates include 3 days.
DUMSPTER PICK-UP
We'll show up on the scheduled date to pick up the dumpster.
How to Prep for Delivery and Pick-up
Select a Location:





Clear a spot where you'd like your dumpster placed.
Remove Obstacles:



The truck requires about 60 feet of space to approach and about 23 feet of vertical clearance to raise and place the dumpster.
Avoid Overloading Your Bin:

If we come pick up your container and debris is sticking out of the sides, we won't be able to safely haul it away, resulting in a fee.
Call for Removal:




Don't forget to call to schedule pickup for your dumpster on or before the last day of your rental period.